The Estate
The Domain Bernard is located in Leynes, on the border of the Beaujolais and Mâconnais regions. It is the only valley where you can produce red, rosé and white wines from Southern Burgundy and Northern Beaujolais. The vineyards consist of various plots, which clearly express the diversity of the viticulture microclimates of Leynes, each one offering specific advantages in terms of wine quality.
The Château residence dates from the XVIII century and is a perfect illustration of the Mâcon area architecture. The Château overlooks a beautiful, historic park composed of many types of trees and gardens. The historic coat of arms "d'Azur à 3 faces d'or" is displayed on the balcony of the massive stone veranda that wraps around the Château.
Situated beneath the Château, the underground vaulted cellar made of stone is an extension of the winemaking area. It shelters rows of wine casks (215 litres) and large barrels. Here the wines receive much care and attention, from the moment they leave the wine press up until the time they are bottled.

In the continuation, a smaller cellar is intended for vintages of our Beaujolais-Villages. There is a final cellar that protects the collection of the best bottles of the Domaine.

Wine production of the Bernard estate represents around 27 hectares: 14 ha in white wine, 11 ha in red wine and 1 ha in rosé wine.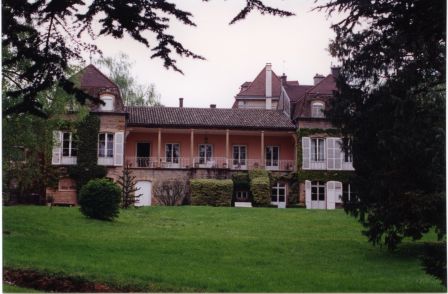 Present in the Mâconnais since the Antiquity, the vineyard faced an important expansion in the Middle Ages, facilitated particularly by the clergy and the aristocracy who stimulated the presence of vineyards and the wine business.
Development on the Saône River began in the 19th century, offering an effective way to transport wines towards Paris. In 1395 national wine regulations were put in place, (type of vine, method of cutting, "AOC"), creating the well-known names of Burgundy wines.