The Garden
After a wine tasting, you can walk along a 100 year-old park. The garden contains numerous species of trees: weeping elm, Lebanon cedar, sequoia, American walnut, double linden, copper beech, and other trees more indigenous to this area.

Near the small goldfish pond, where frogs are always jumping and singing, you will discover a Ginko biloba. This Japanese tree, the oldest species of the world, has fan-shaped leaves.

On the other side of the garden, you will see the vegetable garden and orchard, lovingly cultivated by Mrs Bernard.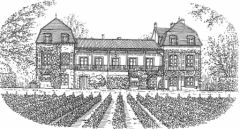 "Reasoned vine growing":
Understanding that intensive treatments can be detrimental for the environment, Jean Bernard has chosen to follow the method of "reasonable viticulture": Reasonable vine treatment consists of high supervision and adaptability to the life of vines and extreme concentration to its vulnerability facing meteorological conditions. This mindset contributes to an ecological balance between micro flora and fauna.

Allowing grass to grow between the vines prevents erosion, as well as assuring a better irrigation to the rows of vines to contain a reserve of various elements: inorganic and the minerals necessary for the growth of grapes.